A well-established and well thought through stakeholder identification plan is, more often than not, the difference between a major and minor response rate.
And more responses give you more opportunities for a positive outcome.
The Consultation Institute (tCI) says it's important to "start early and identify where and how to deploy your resources".
The earlier and more thoroughly you undertake stakeholder identification, the better chance you have of being able to gauge the needs presented during the engagement process.
Social Media Techniques for Stakeholder Identification
Some say that social search is one of the most powerful search tools available, but beyond looking for friends and family, it's also one of the most underused.
The ability to review live discussions and comments around a project provides an invaluable asset to the stakeholder management process.
Using the same keywords and phrases as you would for a broader internet search, the social search can provide an on-the-ground view of the attitudes and sentiments surrounding a project that would be hard to find elsewhere.
On many platforms, including Twitter and Facebook, search results can be filtered to provide more precise results, including dates of posts, language and location, giving access to highly relevant content and comments.
Social search isn't a perfect tool. Many social media users prefer their activity to be kept private, so the search results offered are often not the complete picture.
Users without a private account could still find a search of their profiles or status updates invasive.
Therefore, social search should be done carefully, conscientiously, and with the privacy of stakeholders as a priority.
Social Media Channels to Identify Stakeholders


Facebook Groups
Social search can be used to identify 'groups': communities of users that share a similar interest or hobby.
High-interest/low-influence stakeholders will often form groups as a means of communicating about a project. It's essential that these groups are monitored and engaged with as part of the stakeholder management process.
How to search on Facebook:
Use the keywords identified earlier in the search function found on Facebook. Then, use the Groups tab to filter the complete list to relevant groups.
Once you've identified the group, or groups, relevant to your project, you can do further work on categorising stakeholders within the group, or add the group as a whole to a communication strategy.
If groups don't appear to exist relevant to your project, create your own Facebook Group and draw potential stakeholders in. The process is simple:
Provide value. Post content in the group that provides real value to the members;
Keep the content fresh. Discuss the current events of the project in real-time as much as possible;
Ensure it's newsworthy. Bear in mind that the content is not about you, the company or the project. It's about what the stakeholders want to hear. It isn't hard to align what needs to be heard with news about the project. It's all a matter of perspective;
Build a community. Focus on your lower-tier interest/influence stakeholders using this one-way communication path. If you've done a good job and pulled these stakeholders together as a project community, getting the word out to them suddenly becomes easy;
Develop relationships. Use Facebook Group as a team strength builder in building some of these lower-tier stakeholders into higher interest stakeholders. You can never have enough project supporters in your camp.



Twitter Lists
Twitter Lists are another excellent source for stakeholder identification.
From a project management point of view, the trick is to use Twitter lists to find and subscribe to the additional lists your project could benefit from.
You've already completed a partial list of stakeholders through the usual process of reviewing your project communications.
Now is the time to use that information to your advantage and utilise Twitter Lists.
How to search on Twitter:
Visit the Twitter profile of several of your most important stakeholders. Once it's popped up, click on the three dots: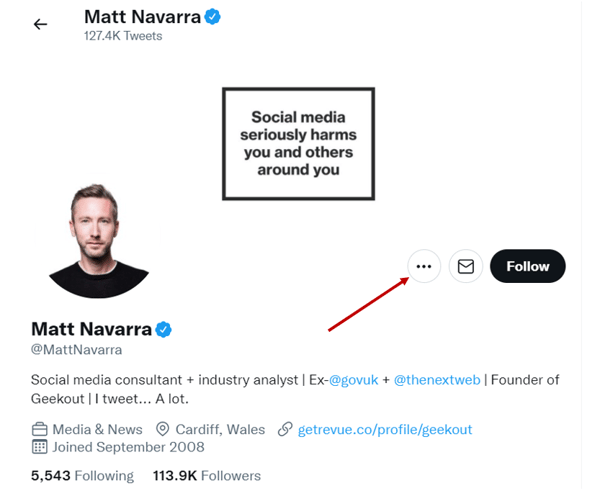 And from the options available, click on View Lists: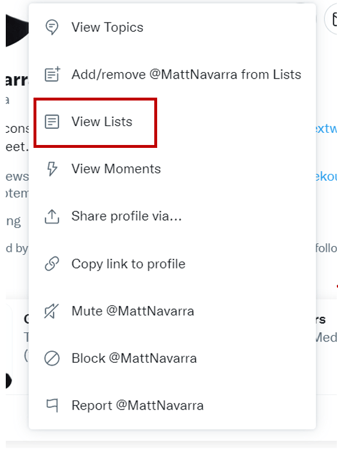 Check out the lists that these stakeholders think are important. These will be their public Twitter lists; the private ones won't show.
If you hit the "Member of" tab, you'll find out what lists they've been added to and not the ones they've created. The other people on these lists are potential stakeholders.


Social Media Hashtags and Stakeholder Engagement
Like Facebook Groups, hashtags provide a platform for an audience unified by a common interest, giving them the ability to communicate and comment together.
They're used to group conversations and comment chains together and are most often utilised as a means to vocalise opinions around specific subjects or events.
Hashtags can be used as a resource for identifying stakeholders that meet a specific demographic.
They can also be used as a key source of intel regarding project opinion. Once identified, it's essential that primary hashtags are monitored regularly and should be included in any communications strategy.
How to find and use hashtags:
Identify keywords. Use keywords to find relevant hashtags used by groups of people that are talking about things that will be going on in your project. That list of keywords and phrases will come in handy again;
Analyse and Prioritise. There are analytical methods available using several tools on the market that will identify the frequency and reach of a hashtag's influence. Naturally, the marginal ones can be discarded and the strong ones used to identify people that just might be stakeholders in your project. Stakeholder sentiment can also be tracked after the fact to keep a "silent tab" on how stakeholders react to your project news and announcements;
Create your own. You can also create a few hashtags of your own to draw the stakeholder audience into one common forum.


Hashtags can be a lot of work to attract and develop a stakeholder sounding board.
One of the major shortcomings of an approach like this is getting false positives from a relatively small audience size. The sentiment of the group may not represent mainstream opinion.
Treat it as a sounding board or a warning flag, and you'll avoid those problems.
Social Media Advertising
Unlike traditional advertising, social media advertising allows you to target a niche audience directly and, when done correctly, can provide a list of contacts that have shown interest.
This is particularly helpful if you are aiming to attract stakeholders that meet a set demographic. Using targeted social media advertising, you can reach the audience demographic and ask them to sign-up or register their interest in a particular project.
This audience can then be flagged as interested and targeted by future communications, be it email or further social media advertising.
The biggest shortcoming of this method of stakeholder identification is cost. Advertising on social media is cheaper than traditional methods but is still a relatively risky avenue for return on investment (ROI).
The cost of ads on social media can mount quickly if you're running them for weeks at a time. The good news is that each social media channel you would use offers advertising and analytics as part of the package.
The process is well-described, and there is a support structure within the social media channel to help you get your advertising campaign off the ground.
Facebook advertising, for instance, is an incredibly powerful tool with a significant global reach, but at a local, niche level, it's at its most powerful.
The Next Step In Your Stakeholder Engagement Strategy
After identifying your stakeholders, it's time to have a communications plan in place and engage with them.
A stakeholder engagement system is the best and most effective way to keep track of all your stakeholders' interactions in one place.
With Tractivity you can drill down your stakeholders' interests, influences and location, understand the actual
comments made by each one and tag the related issues and sentiments.
You can book a free demo with our product experts and learn more about how we can help you target the right stakeholders and create lasting relationships, supporting the outcomes of your projects.