Mapolitical political asset & stakeholder mapping
Tractivity's partner Mapolitical provides powerful political mapping communications in UK public affairs.
Reach the people that matter to you with Tractivity and Mapolitical.
In a world of information overload, reaching and engaging with the most important people about a specific programme or project can be extremely difficult.
Being able to find, maintain and target a list of high influence political stakeholders such as MPs and Councillors or media contacts can be both challenging and time-consuming with data frequently becoming out-of-date.
We want our clients to be able to reach the right person at the right time. That is why Tractivity has joined in partnership with Mapolitical, one of the UK's leading political and media data sources, to integrate the accurate Mapolitical data directly into the Tractivity SRM system.
The Mapolitical Integration benefits:

Automatically import information across a range of political and media contacts.
From MPs, Parish Clerks, Devolved Parliamentarians, to News desks for Papers, Radio or TV, and many more;

Drill down into any location within the UK and only import the stakeholders that are relevant to you.
This could be data from within a set of defined boundary areas such as counties or districts, data connected to a particular road or rail route or even data contained within a manually drawn area;

Ensure that your data remains up-to-date.
Mapolitical employ researchers to update their data on a daily basis - as stakeholders change jobs or are elected this information will be automatically updated for you within Tractivity each night;

Automatically group each set of stakeholders by category so you can easily identify whom you need to reach.
Communicate via email, newsletter, or SMS directly from Tractivity, ensuring that you push the right information at the right time;

Track all communications against each contact directly within Tractivity.
Everyone within the team will have a clear and up-to-date view of what's been discussed and what actions have been agreed upon.
This partnership is the result of our commitment to our client base and the feedback we receive.
If keeping on top of political or media data is a challenge for your team, Mapolitical integration is the best solution for you.
Contact us to learn how you can leverage the Mapolitical benefits to improve your public affairs strategy.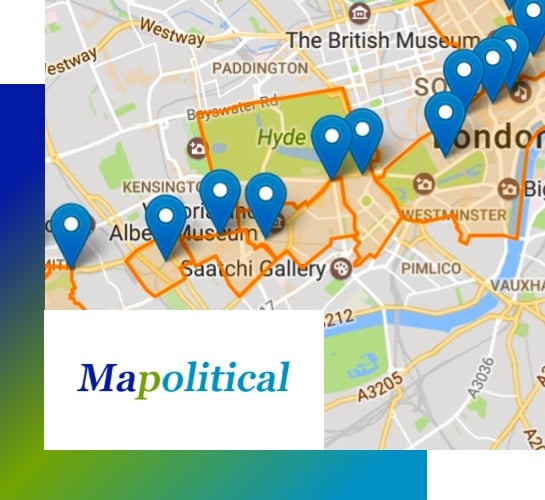 Sign up for our newsletter
Receive content about stakeholder engagement, leadership, news and more, delivered monthly to your inbox.