How Safe Is Your Stakeholder Data?
Excel is a tool many of us use for our work, and spreadsheets are invaluable for data manipulation and analysis. However, whilst they are often used as a surrogate for databases, this is often not the right approach.
For sensitive databases, important, critical and even life-changing work, spreadsheets introduce risk – often with management unaware.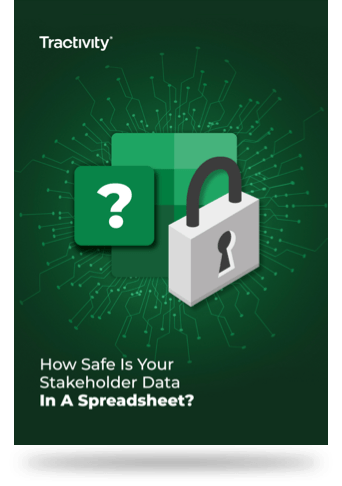 It's been all over the news. The test and trace efforts were revealed, a day after the celebration for app downloads going off the shelves like 'digital hotcakes' to be 16,000 people short. A combination of outdated software, sloppy procedures and inadequate checks surely shouldn't have happened for such an important dataset?
It's so often the case that those in charge of an organisation don't know how their data is being stored or managed. In this case, the problem would not have occurred had the outdated version of Excel been updated. That raises the question as to whether Excel is an appropriate tool for the task.
Spreadsheets carry huge risks.
The use of spreadsheets increases the risk of data errors, duplication and mislaid information. According to a University study on corporate use of spreadsheets, 94% of spreadsheets have errors.
Data breaches will continue to happen when Excel is used in place of software that's designed for the job.
No business of any scale or professional standing can really find it acceptable for dozens, often hundreds or even thousands of stakeholder interactions to be filed and maintained by way of a loose assortment of shared drives, personal computers, filing cabinets and desk drawers alongside spreadsheets.
So why continue to trust our most valuable data (that of our stakeholders) to be managed by spreadsheets? What's the solution?
Tractivity offers software that's specifically designed to capture and safely store stakeholder information and has been developed over years of experience with clients that trust us to manage their data.


In this guide you'll uncover:

Real-life examples of organisations that suffered huge losses due to spreadsheet misuse;
The main issues you must deal with when storing sensitive data in Excel;
How you tackle all these problems with a single tool.
Discover more of Tractivity's content
Sign up for our newsletter
Receive content about stakeholder engagement, leadership, news and more, delivered monthly to your inbox.