How To Break Down Business Silos
Now more than ever before your organisation may be working in silos. This may result in feeling like you don't have a handle on all your key interactions from across your organisation's network.
Your organisation is made up of a variety of networks and when you're able to leverage both the way you work and the systems you use to overcome siloed activity, you'll find success.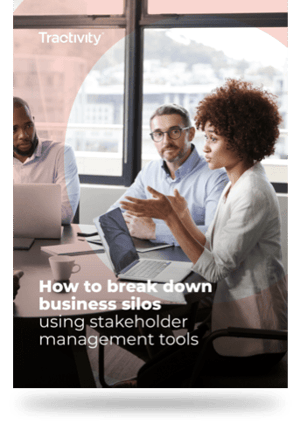 86% of employees fault a lack of collaboration for work-related failures (Rypple) and a study from the Project Management Institute showed that 43% of project managers surveyed stated that communications factors were a key factor in the failure of projects.
Whether you are aware of it or not, all of your business dealings have stakeholders and your business can take a nosedive if you don't fully understand your stakeholder landscape.
Communicating and engaging with stakeholders will reduce the chances of project failures since they're aware of everything going on and will be more likely to be on board with the end result.
The benefits of managing stakeholders far exceed the risk of leaving them to fend for themselves or hoping that they will be happy with the eventual outcomes.
In this whitepaper, we cover:


the 3 ways your organisation can benefit from managing stakeholders more effectively;

the benefits of using software to manage and engage with stakeholders.
Discover more of Tractivity's content