There is a hierarchy of engagement amongst the digital channels you use when engaging with stakeholders.
In this post, we want to help you understand how this works and how this can help you deliver more effective stakeholder engagement!
We'll go through the engagement hierarchy and each of its levels:
The stakeholder engagement hierarchy
Let's look at it as a pyramid system where each level of the hierarchy involves a different level of stakeholder engagement.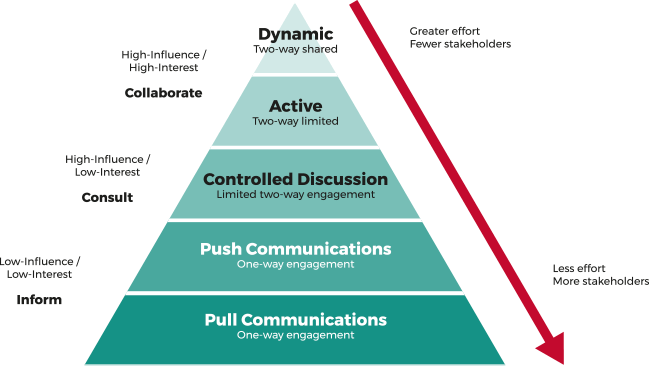 From the image, you can understand the parallels between where the stakeholder falls on the categorisation grid, the level of communication needed and the hierarchy of digital communication methods commonly used.
To get to the details of the engagement hierarchy, we must look into how each communication channel works to accomplish the intent of inform-consult-collaborate with stakeholders.


Pull communication channels
Pull communication channels are those where you frequently publish corporate and project information for the taking.
In other words, the stakeholder has to take the initiative to look for it.
Your only responsibility is to provide the low-interest/low-influence and borderline low-influence/high-interest stakeholders with the links to the information.


Push communication channels
Push communication channels differ from pull channels in that you are addressing the information to the attention of the stakeholder.
It can be done using a group email collective address from your CRM or you can target one of your four segmented groups according to your engagement grid categorisations.
The key here is not to overthink this group. Avoid addressing the stakeholders here individually and stick with the group approach to limit your investment of time.
The added feature here is that the content of the communication is more focused on specific project updates/events.


Controlled discussion channels
Controlled discussions are situations where you want to solicit specific input from a particular group of stakeholders.
It's a two-way communications path, but it's not live. You are limiting the interaction to written exchanges of information over a digital medium.
The frequency of these interactions is also controlled with a target of once a month encounters with a provision for special occurrences when the project needs some specific feedback.


Active participation channels
Active participation is where you include stakeholders as part of your team using your task management system for the most part.
They are a registered resource for the project and can be seen in the list of available resources when choosing to whom a task will be assigned.
They will have limited hours available and normally have a narrowly defined role with equally bounded responsibilities based on their skills and knowledge.
Dynamic engagement channels
Dynamic partnership occurs on a continuous basis with shared accountability and responsibility for the health of the project.
This group of stakeholders is your peer group. They have as much experience - and in some cases more experience - in specific disciplines than you.
You can delegate management of project team members to them, as well as involve them in the decision-making process.
Communication channels examples
A few of the more common digital channels for each communication method: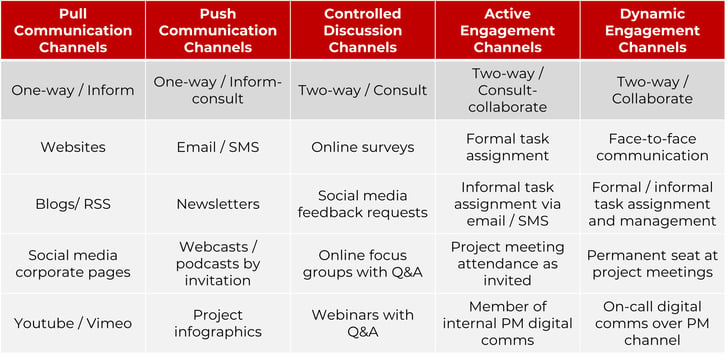 Creating a stakeholder engagement strategy that applies the appropriate communication channel to each category of stakeholders will help you obtain the level of engagement necessary to support your project's success.


Improve your stakeholder communication
Deliver better stakeholder engagement using all the communication tools you need in addition to stakeholder mapping, data analysis, insightful reporting and more.
Tractivity can help with all your engagement needs in a centralised, GDPR compliant solution. Contact us today to learn how we can support you.