A stakeholder engagement plan is an essential element to any large or small project.
Organisations must ensure that they are compliant with the needs and regulations when starting a stakeholder engagement project.
The stakeholder engagement plan can make the difference between your project's success or failure which is why it is critical to get right.
That's why all stakeholder management and public consultation activities must be planned.
If your project impacts a community, as 99% of them do, a plan to avoid issues, engage the city efficiently and report on your progress is essential to increase the likelihood of success.
In short – that back of a napkin plan will not suffice. You must assess the situation and think about each organisation, business, family, government, piece of land, tree, animal that will be affected by your project, to create a comprehensive stakeholder engagement plan.
Why you need a stakeholder engagement plan
A stakeholder is either an individual, group or organisation who is impacted by the outcome of a project. They have an interest in the success of the project and can be within or outside the organisation that is sponsoring the project.
Stakeholders can have a positive or negative influence on the project, and now is the perfect time to take a look at them under the microscope.
Planning your engagement gives you a giant head start because without one you're likely to miss vital communities, forget to inform them of any plans, feed them with incorrect information and more that will devalue the validity of your project.
Each year, enterprise organisations around the world face huge project failure rates, wasting millions on failed projects. They may wonder why – using expensive consultants to assess and recover failing projects, and often abandon the concept.
You can't plan it all, but if you have a robust engagement plan, you'll weather the storm of serious incidents much more easily.
How to prepare a stakeholder engagement plan
Your stakeholder engagement plan should be arranged into 12 sections:
1. Areas of influence for the project
Firstly, you should determine the geographical areas to be impacted by the project and how you will engage with stakeholders in each zone.
Keep it simple – start with four zones:
Zone 1: Major
Zone one is the closest to the project site. These interactions/impacts on stakeholders will be on a widespread basis (let's say daily).
Zone 2: Moderate
Zone 2 stakeholders frequently deal with the project (interactions/impacts). These aren't as specific as zone 1, but still important.
Zone 3: Minor
In zone 3, a stakeholder interaction with your project will be limited in time and potentially restricted to a specific phase of the project.
Zone 4: Negligible
Interactions could occur on an incidental or occasional basis with stakeholders in this zone, and impacts are either very limited or inexistent.
2. Regulations and requirements
Here is a non-exhaustive list of the regulations to bear in mind:
Internal:
Code of business conduct and ethics

Anti-bribery and corruption policies

Privacy policy

Risk management
External:
Local, regional and national regulations

International standards

World Bank (IFC)

Free, prior and informed consent (FPIC)

Global Reporting Initiative (GRI)

International Council on Mining and Metals (ICMM)

Extractive Industry Transparency Initiative (EITI)
3. Methodology
Think of your methodology as the foundation of your engagement plan. The place where you decide how you plan to identify and categorise your stakeholders.
Further stakeholder analysis is often a requirement to ensure you've identified vulnerable people including, ethnic minorities, the elderly, the disabled and more.
Often, multiple issues affect your stakeholders. These include social, health and safety, environmental, economic, security and more. It's important that you divide these down into sub-categories to ensure an extra level of clarification. For example:
Economic – stock market, employment
Environmental – air quality and waste management
You get the picture.
It's not just about organisation, perhaps the most significant benefit of this method is that you're able to track your team's productivity by finding out what issues they're spending most of their time on.
4. Project stakeholders
In the previous section (methodology) you identified all of the categories and sub-categories that your stakeholders belong to.
In this section, you'll create an exhaustive list of your stakeholders so that you can begin to understand them, their motivations and how to engage with them. You'll include details such as where they live, what organisations they belong to, how their reference themselves and so on.
This is stakeholder mapping.
The most important part of engaging with stakeholders is that you understand them. That you have empathy for their situation because then you're able to solve their problems, or at least understand their problems, so you point them in the right direction.
Use stakeholder mapping to understand each stakeholder according to a number of criteria such as influence/power capacity, network capacity and interest level.
On occasion, stakeholders with a high interest do not influence their peers. Therefore, it makes sense to find the stakeholders with a higher level of influence and invest time in engaging with them.
Always map stakeholders based on what you know of them at the time. Over time, your understanding of them will change and evolve. Situations change!
5. Stakeholder engagement activities
This is where the action takes place. This is your communication plan where you'll map out public consultations, identify the most effective stakeholder communication channels and methods, the frequency of communication and the tools to implement it.
It's important to make a note of how your communications will develop as the project progresses.
Often, you'll want to engage with specific stakeholders more than others, such as when monthly focus groups with stakeholders from towns and villages close to that phase of the project.
6. Stakeholder engagement plan matrix
You know who your stakeholders are, you know how to reach them, and you know what groups and sub-groups they belong to.
Now you'll start to implement your strategy.
Here is an example of a stakeholder engagement matrix: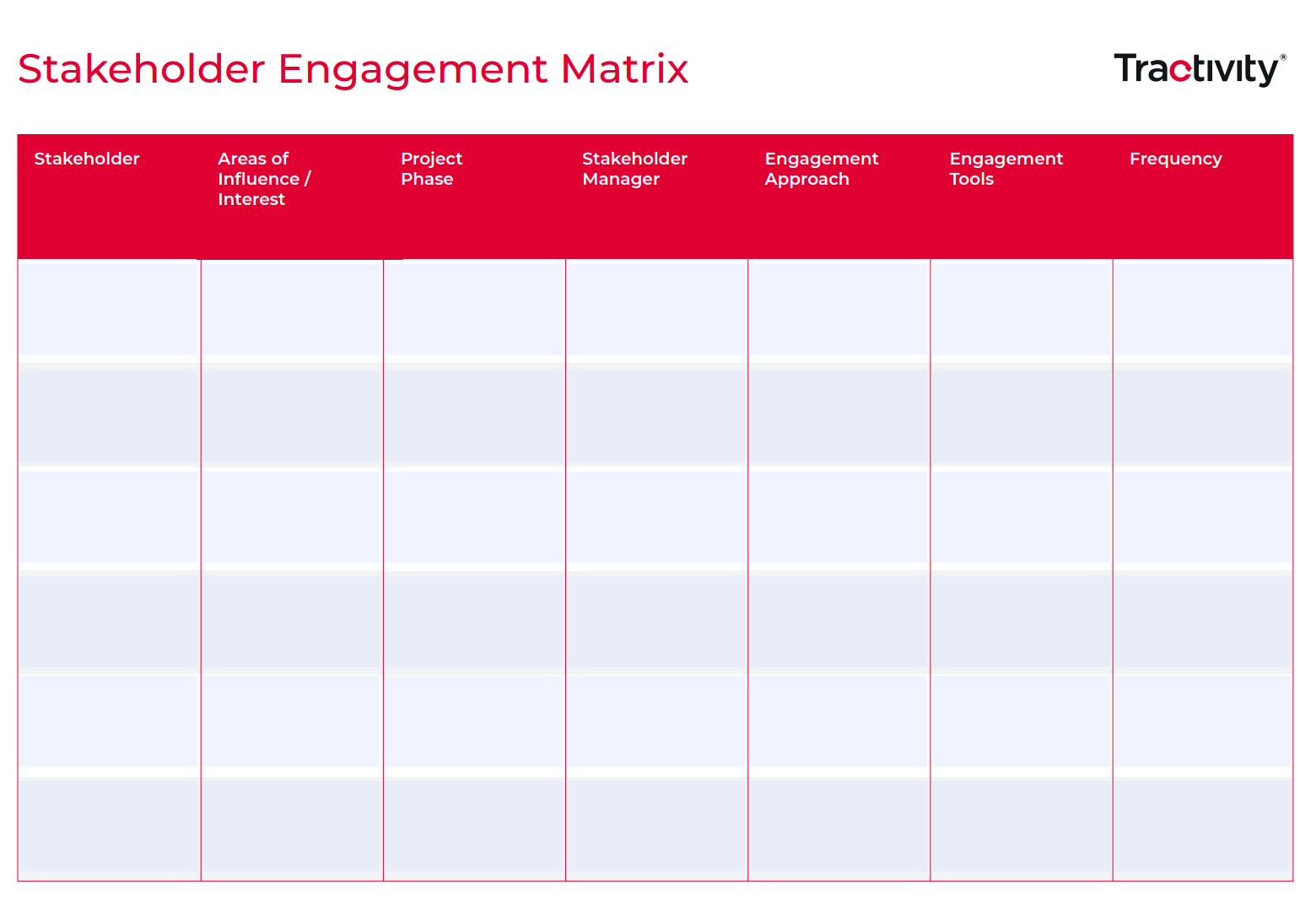 You can download our stakeholder engagement plan with matrix template to use on your next stakeholder engagement process.
7. Timetable
We recommend breaking your plan out into single monthly increments. If you'd like to include more detail, your best bet is to plan 6-week sprints throughout the lifetime of your project.
The timetable is an overview of your communication strategy over time, according to each project phase.
8. Resources and responsibilities
Here you and your team will coordinate your activities and create an internal structure that contains each member's responsibility.
Who do you escalate grievances to? Well, you should always know because you've defined it upfront.
You'll create detailed job descriptions for each position – ensure it includes the names of the individuals in charge and if you'd like more detail, you can add an organisational chart with a hierarchy of roles.
9. Grievance management
Organisations should not only have a grievance mechanism process that's written up and publicly available. It's essential that you keep good records and report back consistently.
Doing this will mean that stakeholders can access a clear definition of what a grievance is. They should also have access to your process and the estimated grievance resolution time.
10. Monitoring and reporting
As your project progresses, you should ensure that you're monitoring and reporting on your engagement activity. That way you can be sure that you're implementing the plan.
You may be used to using Excel, email and sharing documents. Alternatively, perhaps you use a stakeholder management tool like Tractivity. Whichever you use you MUST be tracking and monitoring your progress.
We've found that the best way to do this is via a stakeholder management tool.
Why?
Firstly, your information is centralised and organised in one place. This will save you SO much time. Let's say that you're looking for an engagement that took place two years ago. The process of finding that in your emails or spreadsheets is horrific. There's a good chance that you might not find it at all.
You're also able to analyse your data to make sense of it. You'll get a monthly report of your project, your teams engagements, the trends in communication and so much more.
Tractivity does all of this and more!
11. Budget
It would help if you kept any revisions to your budget up to date inside your plan. This is a good reminder that this plan should always be seen as a work in progress. It's never really finished until the end of your project.
12. Annexe
The Annexe is where you'll include any documents like your grievance form templates, your public consultation attendance sheet template.
We hope these tips will facilitate your work and provide a useful framework to help you build a good stakeholder engagement plan!


Book a free Tractivity demo
Tractivity streamlines all your stakeholder engagement and management in one single tool.
Book your free 1-on-1 demo, delivered by a member of our expert team.