Collaborating with stakeholders is an essential part of the work that needs to be done for any project to move forward and succeed.
Once you have identified, categorised your stakeholders and planned your communication to inform and consult with your low-influence stakeholders, it's time to move to the Dynamic level of communication.
In this blog post, we'll be discussing the process of collaborating with stakeholders that sit at the top level of the pyramid of communication.

Stakeholder collaboration in the communication pyramid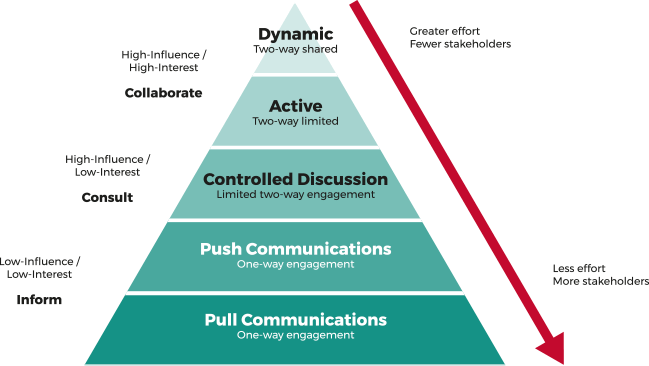 Stakeholder collaboration is a two-way exchange of information that is not constrained. This collaboration process involves the high-interest/high-influence stakeholders of your project.
Your collaboration with stakeholders that belong to the Dynamic engagement channel must happen on a continuous basis, with shared responsibility for the health of the project.
Because of their position and experience, these stakeholders must be contributors to the everyday running of your project. They must:
Have access to all reports and documentation
This includes shared files on your stakeholder management system. If you use the Google G-Suite as your cloud repository, they must be able to access Google Docs, Sheets, Forms, and Calendar. If you use a tool like Sharepoint as your cloud infrastructure, they must have an email account that gives them access to your project current files and archives.
Co-author processes and documents
You should have processes and documents authored or co-authored by these stakeholders that take advantage of their unique value to your project. They wouldn't be high-power stakeholders if they didn't have that kind of value.
Be an integral part of the decision-making process
That means you collaborate with them directly to get their buy-in.
Be accessible
They must be accessible on your stakeholder management tool and recognised by name in the project communication plan in both the stakeholder management section and the project team section.
Collaborating with stakeholders using digital tools
Connecting with high-power stakeholders using digital tools makes the collaborative process much quicker and easier than relying on traditional methods.
The time saved for you can be reinvested into keeping the project moving forward while the proactive and dynamic digital collaboration keep stakeholder concerns from slipping through the cracks.
Digital channels bring great power to collaboration with stakeholders, and at a minimal cost.
Savvy organisations choose cloud collaboration software that offers all the tools and features to support good relationships and track all data.
The primary benefit of using digital channels in accomplishing stakeholder collaboration is that it makes work simpler and faster.
Tractivity is streamlining stakeholder collaboration for many organisations in the public and private sectors.
Contact us to learn more about how we can help you improve the way you collaborate with your stakeholders.