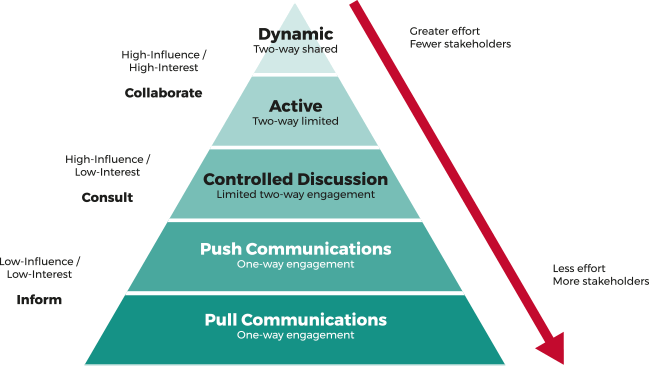 Stakeholder Management: How To Work With Stakeholders
In previous blog posts about the stakeholder management process, we discussed how to identify stakeholders and how to engage with them using digital tools such as social media and email.
Today we're discussing the process of working with stakeholders and how it fits into the overall pyramid of communication.
We are at the top of the pyramid, and our vision of collaboration is a two-way exchange of information that is not constrained and is an integral part of the work that needs to be done to keep the project moving forward. These stakeholders are high-interest/high-influence and must be contributors to the everyday running of your project.
– They must have access to all reports and documentation. This includes shared files on your stakeholder management system. If you use the Google G-Suite as your cloud repository, they must be able to access Google Docs, Sheets, Forms, and Calendar. If you use a tool like Sharepoint as your cloud infrastructure, they must have an email account that gives them access to your project current files and archives.
– Co-authored processes and documents. You should have processes and documents authored or co-authored by these stakeholders that take advantage of their unique value to your project. They wouldn't be high-power stakeholders if they didn't have that kind of value.
– They must be an integral part of the decision-making process. That means you collaborate with them directly to get their buy-in.
– They must be accessible. They must be accessible on your stakeholder management tool and recognised by name in the project communication plan in both the stakeholder management section and the project team section.
Automatically connecting high-power stakeholders makes the collaborative process much quicker and easier than relying on traditional methods. The time saved for you can be reinvested into keeping the project moving forward while the proactive and dynamic digital collaboration keep stakeholder concerns from slipping through the cracks.
How to work with stakeholders: Use both Stakeholder Management Tools and Communication Archives
Let's talk about project initiation for just a moment to put this idea of choosing stakeholder management tools into perspective. There are a few critical points to have firmly in mind before you even start looking for the perfect tool.
– Stakeholder management tools are enabling technology. They will not run the project for you.
– Planning begins well in advance of project initiation. Depending on the complexity of the project, planning should start at least a year in advance.
– Advanced project planning is a subset of smaller projects. It must be completed before the primary project is initiated. Choosing the stakeholder management tools is one of those preliminary projects. In many cases, it is the first thing you need to get done so you can have continuity throughout the entire effort.
That being said, it is important to enter into the task of choosing tools using a disciplined and analytical mindset. There are many technology options in the market, and they can boggle the mind through their slick marketing tactics to the point of influencing you into making a hasty decision. As a rule, decisions made in haste will come back to haunt you later in the project.
So, what are the important criteria that will allow you to whittle down the selection of a stakeholder management tool to a manageable and relevant choice? There are four considerations.
Final Thoughts
Digital channels bring great power to collaboration with stakeholders, and at a minimal cost. Savvy public sector organisations choose cloud collaboration software that offers all the tools and features mentioned above, plus many others. We'll be looking at this in more detail in a future post.
The primary benefit of using digital channels in accomplishing collaboration is that it makes work simpler and faster. Instead of trying to get busy professionals around the same table — a job that's akin to herding cats — stakeholders can get online to collaborate when it suits them best, giving pace and spontaneity to their work.
Discover if Tractivity is right for you
A demonstration of Tractivity is quick and straightforward to set up, and we assure you that any product demonstration will be with one of our product experts and not a salesperson. Click here to book in for a demonstration of Tractivity.