ESL and stakeholders pressure: how to avoid this happening in your organisation
As the European football scene gets shaken by the controversial European Super League plan - and with the countless comments on how it alienated its stakeholders - we've spoken to Paul Rivers, the chairman of Tractivity and also a Director of Solihull Moors FC to get his point of view about these events:
"They think it's all over...it is now!"
What a tumultuous 48 hours in the mad upper echelons of the Football world!
The announcement of the formation of a new European Super League managed to do what has been almost impossible over recent years – it united all other Premiership clubs (although you can't help wondering what would have happened if they had been on the party invite list) and created an unlikely alliance of football fans and politicians alike.
All the more bizarre when you would be hard-pressed to find many positive opinions on the support from the UK government for Football Clubs during the Pandemic.
Less than 48 hours later after loud political posturing, livid fan protests and the ironic condemnation from the very Football bodies and broadcasters largely responsible for creating the football money monster, the plans appear to have crashed and the so-called 'Dirty Dozen' are no more.
What has become apparent is that the largely non-UK based owners of the six English clubs involved believed that they could ride roughshod over all other interests and assumed in their utter arrogance that they would prevail because money always wins – or does it?
They totally and utterly forgot to consider all other parties who would be affected by this move – in other words they completely ignored their various cohorts of Stakeholders.
Now, this is not to denigrate fans as stakeholders – we have depressingly seen over the past twelve months how empty football feels without fans - and it is heartwarming to see how even the fans of teams planning to break away voiced their opposition to the move – a humourous riposte from Chelsea fans on this image doing the rounds on Twitter:
That is to say that stakeholders DO matter, all of them. And the respective club owners are most certainly learning it the hard way.
Where it went wrong
Stakeholder is a term to designate any individual, group or organisation that has an interest or is impacted by a business or organisation.
The clubs have clearly failed in engaging stakeholder groups and, at the very least, the following were NOT consulted:
The fans
Regulatory bodies
Employees – not even the very players on whose abilities these clubs depend on – and probably the most expensive assets in the business
Competitors – after all, competition is nothing without competitors, and the competitor Premier League clubs are also intertwined as shareholders
The rest of the football pyramid – it was blithely believed that the rest of the pyramid could be bought through some promises of more cash – recent history would make this a barely believable outcome
And of course, there may be many more categories of stakeholders that would be affected.
If you take the not unreasonable view that stakeholders mattered to the economic interests of the DD you really couldn't imagine a worse way of consulting that stakeholder base – or indeed not doing so.
Stakeholder buy-in is crucial for the success of any project or consultation, and consultation is based on core principles (the Gunning Principles). As our friends at the Consultation Institute have put, straight to the point: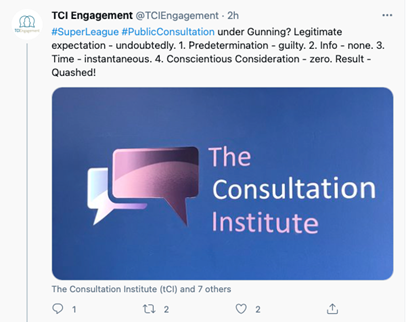 Stakeholder engagement & football
Football at the top is big business, and the need to work and engage with stakeholders has become crystal clear – so how could the clubs involved have done this better?
In a nutshell:
Stakeholder mapping to identify all key stakeholders who should be consulted
Clear communication & consultation with representatives of those affected, supporting proper stakeholder engagement
Active stakeholder collaboration, supported by an engagement plan, and proper evaluation of the outcomes of the process
A considered decision based upon all the evidence, stakeholder feedback and submissions


Ultimately, the owners will probably walk away unbowed, and it remains to be seen what the legacy effect will be across the industry in years to come.
As the excellent online magazine The Athletic so eloquently put it: 'Reprieve falls a long way short of redemption'.
Ensure your organisation doesn't make the same mistake
Spend time identifying your stakeholders across all levels of interest and influence, and get to know them. Learn their needs, issues and motivations so you can develop an effective communication strategy.
A carefully planned stakeholder engagement strategy will give you the chance to build a good relationship that will be reflected in the success of your project.
We at Tractivity are all about supporting organisations in delivering better outcomes with our leading software for stakeholder management and engagement.
Contact us to learn how we can help your organisation deliver positive results.