The multitude of different stakeholders in healthcare can represent a real challenge for healthcare organisations to build relationships and support positive outcomes.
Moreover, failing to engage with one or more stakeholder groups may pose a threat to the success of any project.
With change being constant in this industry, it is important to have a proper stakeholder engagement strategy in place to manage expectations and reduce risks.
So what is the best approach to identify and effectively engage with stakeholders in healthcare?
Identifying and mapping stakeholders in healthcare
Start by looking into all your information sources - internal systems, spreadsheets, notes - and collate a list of all the potential stakeholders of your project, research, programme or organisation.
Internal and external stakeholders in the healthcare sector will include many different groups, to name a few:
Clinicians;
Patients and family members;
Healthcare providers;
Government agencies;
Pharmaceutical firms;
Staff;
Investors;
Local community;
NGOs;
Media;
Research institutions;
Charities.
From public health and social care to health promotion and research, in general, all healthcare organisations will have the "4 P's" as their stakeholders: patients, providers, policymakers and payors.
It's important to take the time to be thorough and leverage all your data resources. Consider using social media channels to identify stakeholders, it can be a helpful search tool.
Before getting started with the stakeholder communication plan creation, you must determine the needs and requirements of your stakeholders. They will expect different types of information, communication methods and attention.
The stakeholder analysis process will provide you with a clear view of the various stakeholders your project impacts and will help you create tailored communication for each stakeholder audience.
To identify the key stakeholders in your project, start with these questions:
Which stakeholders have a fundamental impact on our project?

What's the relevance of your relationship with them?

Who will be responsible or have decision authority on the project?

What do you want/expect from them?
These will help you classify your stakeholders based on their relative power and interest in the project. Then use an interest/influence matrix or the salience model to categorise your stakeholders: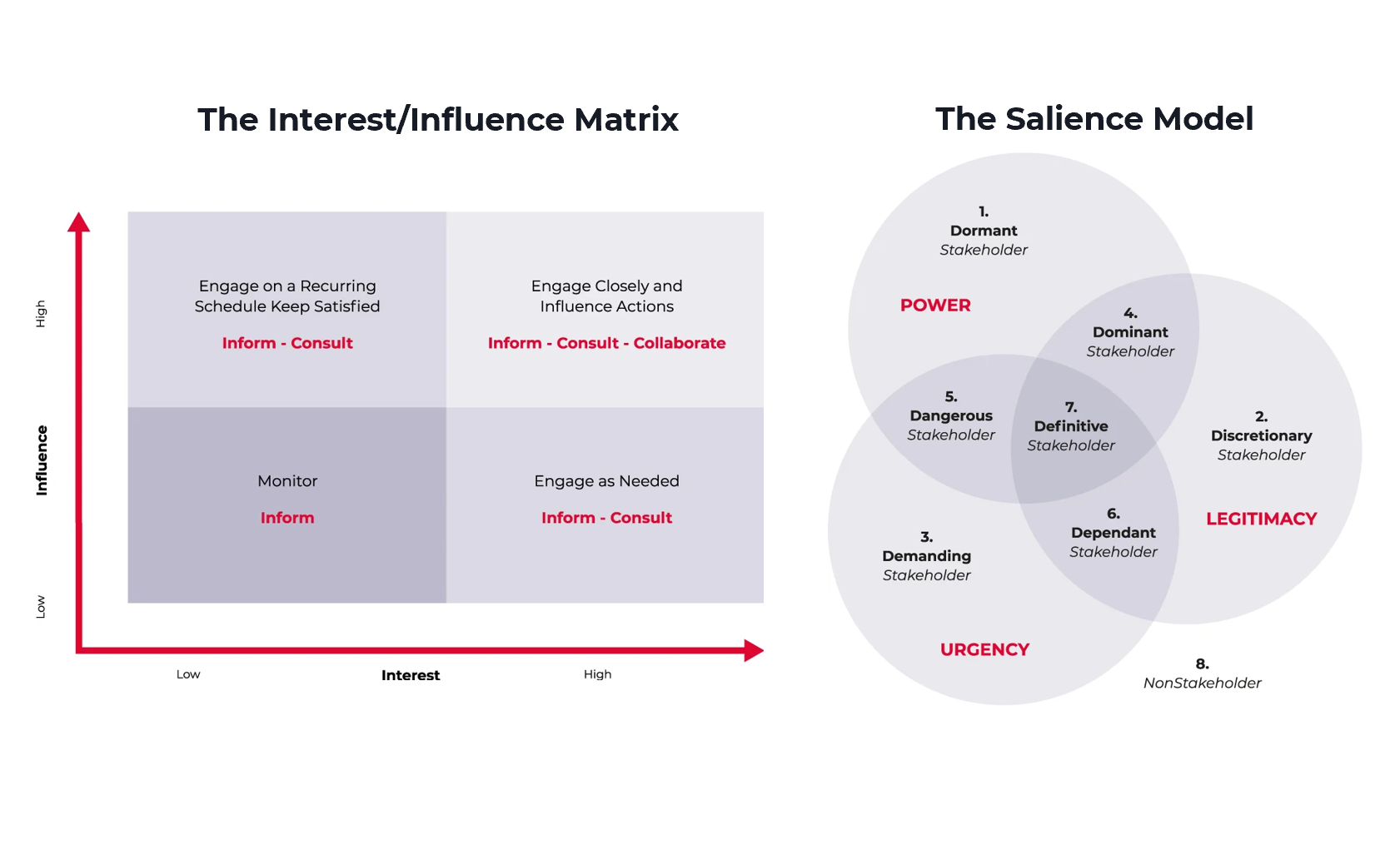 Both methods are part of the stakeholder mapping process that will enable you to determine the appropriate communication type for each stakeholder group.
If planning a public consultation, combining this stakeholder analysis with the RACI model will provide the best support for your consultation.
In case you would like to learn more about how to get started with stakeholder mapping (or review it), check our complete stakeholder mapping guide.
Engaging with stakeholders in healthcare
With your stakeholder groups mapped by interest and influence, you will be able to plan specific strategies to engage with them.
Create a stakeholder engagement plan and map out your communication activities, frequency and tools based on the engagement needs of each stakeholder group.
The healthcare industry is highly impacted by its stakeholders and the interrelationship among them can be quite complex. They can provide research and funding as well as influence strategic direction and public opinion.
That's why stakeholder engagement in healthcare is crucial. By engaging with your different audiences in an effective way you will be able to:
support projects;
shape work programmes and services;
learn the issues that matter to your stakeholders;
support key audiences in understanding your work;
understand potential risks;
gather insights;
build positive relationships;
determine services priorities.
There are numerous engagement activities you can implement to maximise your stakeholder engagement. Workshops, events, forums, focus groups, surveys, text messages and email newsletters are a few examples to be explored and tested.
Stakeholder engagement is a continuous process, where you must monitor engagement activity and use the valuable feedback and insights to shape your services and support your projects.
Regardless of your programme or project size, from building a new hospital to surveying a small group of people, engaging with your stakeholders will allow you to work on the issues that really matter to the success of your project and to your stakeholders.
The importance of stakeholder data security in healthcare
When it comes to stakeholder information, the healthcare sector is a valuable target for malicious cyber activity as it handles highly sensitive personal data and intellectual property for research.
Human error and process errors can also have a negative impact on sensitive data, resulting in data breaches and data loss.
Having personal details wrongly shared with strangers not only causes fear and leads to thousands (or even millions) in costs and compensation, but it can damage an organisation's reputation and confidence.
Using multiple platforms or spreadsheets to manage your stakeholder engagement can increase the risk of data errors and the time wasted on repetitive tasks (as well as having to manage logging in and out of several systems).
Selecting a stakeholder engagement solution that meets data privacy requirements and has a high level of data security can prevent serious risks and reassure your stakeholders that their information is being handled with the utmost care.
Deliver a consistent approach to stakeholder engagement in healthcare
Being able to engage with your stakeholders in the right way at the right time is invaluable to supporting the outcomes of any project in Healthcare.
Tractivity is helping many Healthcare organisations such as the NHS Trusts, Clinical Commissioning Groups and Integrated Care Systems to constantly improve their engagement processes and build positive relationships.
We're also supporting the COVID19 Vaccine Programme and the Health Infrastructure Plan (HIP2 Programme).
Download our Supporting the NHS whitepaper and discover why many NHS organisations are choosing Tractivity as their stakeholder engagement and management system.
Contact us to learn more about how we can support your organisation in facilitating communication and improving your stakeholder engagement.